I love new gemstones… so I love to go to trunk shows and see what is out there. Last week I got to go to a great one right off of Bridgewater.
I found a whole treasure of gemstones and other types of beads, but since I was shopping without a client in mind I put limits on what I could buy.
I got to add a new gemstone to my inventory and restocked on a gemstone that I've used in quite a few of my pieces.
I'll start with the new Ruby Zoisite, it's sometimes called Anyolite. This gemstone contains Ruby & Zoisite and is said to be the marriage of passion and patience. It is also said to help keep the wearer from overreacting and is especially helpful in mourning. I just love the color and shape. I can see it lending itself quite nicely to rose beads for a beautiful bracelet or ankle bracelet.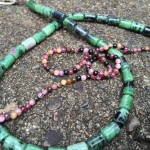 My restock item is Tourmaline (the small gemstones in the center). This beautiful little gemstone comes in a variety of colors…green, pink, blue, and even a black. It is said this is primarily a healing and protective stone; but it also attracts luck, inspires creativity, while it's aiding in physical & emotional healing. I love the versatility of the stone, how well it pairs with other gemstones, and how nicely it fits with the rose beads (as you can see below).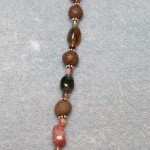 So the next time you see or hear about a gemstone trunk sale… do yourself a favor, stop and take a look. 😉