I'm always thinking about how lucky I am. I get lovely thank you notes; I get wonderful reviews written about Beads of a Rose. One of my most sentimental gifts is a chinaberry necklace.
Here's the story of Gertrude and how I got my chinaberry necklace—
Three delightful ladies came to pick out stones for their funeral rose petal bead bracelets. As cousins and granddaughter, these three women told stories of Gertrude. They reminisced and we laughed until we had tears in our eyes.
In the two hours that we spent together, these three brought the essence of Gertrude to my studio. They made me feel as though I had been a part of her life. Maybe part of it was… we had both run the streets and sandy beaches of Folly Beach, or because we both enjoyed making necklaces, or maybe even because we shared the same last name. Whatever it was…I felt like Gertrude was sitting in my studio belly laughing right along with us.
Gertrude's favorite color was purple and because of that, most of the flowers at her funeral were purple. That made it very easy picking out gemstones…we just looked for purple ones. 😉 Crafting these bracelets could not have been easier; I felt as though I knew how Gertrude wanted them for her family.
When I process funeral flowers…very often the families share with me about the loved one and their life. Then while I roll the beads I often find myself praying for peace of mind and healing for the family members. It was different with Gertrude's rose petal beads.   As I polished them I found myself chuckling and smiling to myself as I thought of my meeting with the wonderful women of her life.
A week or so after Gertrude's family had picked up their rose petal jewelry I received a beautiful thank you note and my special chinaberry necklace from her daughter.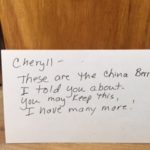 I keep my chinaberry necklace on display in my studio to remind me that even when we are gone from this earth, the memories our loved ones carry, keeps us alive.